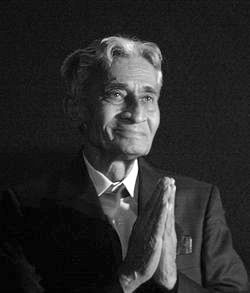 Venkatarama Pandit Krishnamurthy (26 November 1923 – 7 April 2014) known professionally as V. K. Murthy, was an Indian cinematographer.
He studied at the Lakshmipuram school, where he chose music as his elective subject and learned to play the violin. He obtained his Diploma in Cinematography from Sri Jayachamarajendra Polytechnic (the present Government Film and Television Institute) in Bangalore in 1946.
Murthy, a one-time violinist, was Guru Dutt's regular cameraman on his movies. He provided some of Indian cinema's most notable images in starkly contrasted black and white. He also shot India's first cinemascope film, Kaagaz Ke Phool in 1959. He is known for his work on Sahib Bibi Aur Ghulam (1962), Chaudhvi Ka Chand (1960), Pyaasa (1957), Razia Sultan (1983) and Nastik (1983).
In 2008, he was honoured with the Dada Saheb Phalke Award for his contributions to Indian cinema.