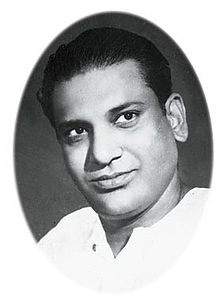 Shri Khemchand Prakash was born on December 12, 1907, British India.
Born in Jaipur, belonged to Churu village near Sujangarh, Rajasthan. He got his first training of music and dance from his father, Shree Gowardhan Prasad, who was a Dhrupad singer and a Kathak dancer in the royal court of Jaipur. In his teens, he joined Bikaner Royal court as a singer performer and later moved to the royal court of Nepal before assisting Timir Baran in Calcutta.
He was a music composer, known for Tansen (1946), Bhartrahari, Mahal (1949), Ziddi (1948) and Jan Pahchan (1950).
He worked as a court singer before he found his true calling in film music. After assisting composer Timir Baran in a few films including Devdas, Khemchand Prakash debuted as a music director for the Supreme films for Meri Aankhen and Gazi Salauddin (1939).
One of his song that had the biggest impact on Hindi film music, 'Aayega Aanewala' sung by Lata Mangeshkar and written by Nakshab Jarchvi for the film Mahal. This was the song that made Lata Mangeshkar a household name overnight.
Khemchand Prakash is also credited with launching the voice that captured the nations imagination for decades – Kishore Kumar with his first solo, 'Marne Ki Duaaen…' for Ziddi (1948).
In a short career spanning just about a decade, he left behind a legacy that exceeded his output as a music director.
He died on August 10, 1950 in Bombay, State of Bombay, India.
Spouses: Kanhi Bai and Shreedevi
Children : Savitri and Chandrakala
Khemchand Prakash Music Award Winners List:-
2017:
Partho Sengupta, Suvendu Maiti, Avijit Basu & Anirban Roy for MAYA MRIDANGA directed by Raja Sen
2018
Alex Olivas for THE ALLEY directed by Caro Duarte (as Carolina Duarte)
2019
IsmailAzad Maliya for DESIBANDS directed by Sukhwinder Singh
2020
majid Derakhshani for NARGESE MAST directed by Jalaleddin Dorri
2021
Bob S.N for BEFORE YOU DIE directed by Suvendu Raj Ghosh
2022
Sushant Pawar & Kishore Pawar for YERE YERE PAUSA directed by Shafaq Khan